MOVING ACROSS TOWN & REGIONALLY, RAMON'S MOVES U!
Call (915) 532.1686
for Ramon's Transfer moving services and free quote.
Or leave a message for a return call within 24 hours.
Family owned and operated, Ramon's Transfer moving company will move you into your home, office or storage. Local and regional service is Ramon's specialty, moving generations of retuning customers.
LOCAL AND REGIONAL MOVING OF: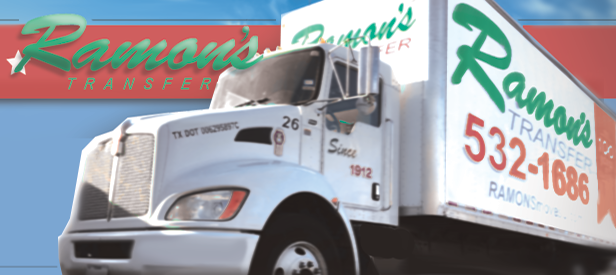 + PIANOS* + OFFICES* + FAMILY HOME FURNITURE* + APARTMENT MOVES* + STUDENT DORMS*
+ CORPORATE RELOCATION* + MILTARY PERSONNEL* + ELDERLY CARE FACILITIES*
RAMON'S TRANSFER moving company has been in the moving business since 1912 with experts in office moves*, safes*, pianos*, all the way up to large company relocation*, cubicles and office equipment*. We value your things as much as you do and strive to provide family and business customers service as we would for our own; turn-key, timely and efficiently.
Ramon's Moves U!
ON-SITE MOVING SERVICES
Just moving furniture around your home while remodeling or redecorating? Let Ramon's movers move your furniture while your new floors or carpets are installing and walls are being painted! Over 100 years of service means your are in good hands with Ramon's Transfer, whether to the next room or a new zip code!
ABOUT US:
In 1912, with a horse-drawn wagon, Ramón Telles established a moving business in El Paso, Texas. Soon he would introduce "modern" transportation to the business to keep pace with our growing city.
By 1936, Ramon's Transfer was passed to his second son Joe who continued running the family business. Joe added and updated equipment and built a crew of professional movers. Joe's passing in 1999 left the reigns of Ramon's Transfer to son Rudy Telles who is ushering in a new century of moving!
Rudy continues this moving tradition with help from son Christopher. Now and for more than one hundred years, Ramon's Transfer moves families, businesses, military, institutions, students and proud loyal customers seeking quality moving service from Point A to Point B.
Ramon's Transfer Moving: Since 1912
RamonsMovesU.com
Ramon's Moves U!
915.532.1686
*Specialty items to be moved, including but not limited to pianos, electric devices, antiques and professional devices/equipment details, including approximate weight and size must be discussed and agreed to prior to move to insure the best experience and the safest transport of your items. Ramon's Transfer looks forward to your move! Let's GO! :)